BMW CIC TV/DVD IN MOTION ACTIVATION

Looking to enable the DVD/TV to work on the move on your BMW CiC (Car Infotainment Computer).
We offer the easiest solution ever!
Simply send us your car VIN number and we will send you a specially coded disc. Enabling you to activate and deactivate your car's TV in motion as often as you want!
You can also be sent the unlocking disc by electronic download to unlock your car even quicker!
Works on all European BMW's with the CiC based navigation.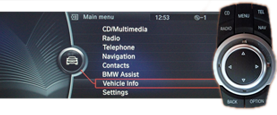 DVD AND TV ACTIVATED
The activation disc will allow veiwing of the CiC DVD player and TV tuner while your car is moving!
No need for installation of any modules, just put the unlocking disc into your navigation. wait a few minutes and your passengers are ready to enjoy your TV and DVD player while driving!
It Really is that Simple!!!
Our Price : £105.00